Grow Faster And Smarter With A Part-Time CMO And Our 4-Pillars Marketing Team
Strategy is the name of the game if you want to will in 2020 and beyond. 
Our Part-Time CMOs will evaluate your business and put together a winning strategy to help give you the competitive advantage you need.
Our 4-Pillars Marketing Team will help execute that strategy to give your business success.
Marketing Your Business In 2020 & Beyond
Marketing as Micro-Services
PayScale puts the median compensation for a CMO in the United States at around $200,000, which is simply out of reach for most agencies and firms.
Our micro-service model creates flexibility to outsource projects to agencies and contractors when the need arises for their time and expertise. With a combination of in-house and outsourced resources, the marketing team becomes a more cost-effective workforce that can quickly adapt to change.
It's about creating an amorphous team where people aren't in boxes, but they aren't tripping over each other, either. At its core purpose, marketing is supposed to raise awareness to increase business and this is exactly what you can expect when you hire us as part of your team.
Our Approach: Strategy | Engagement | Operations | Sales
Back in the day marketing automation required custom coding and campaigns that were elaborate projects. Agile methodologies and tech simplicity changed all that.
Today, we have an incredible stack of technology at our disposal to do virtually anything. We are capable of doing enormous projects with a very tight team because of fail-fast thinking and advances in technology.
As marketing grows in complexity, the number of functions the team performs grows as well.
As a whole, the marketing team oversees messaging, content creation and distribution, design, social media management, events, public relations, SEO, advertising, sales, upsells and renewals, system operations, analytics, and more.
As your marketing leaders, we will devise an infinite number of team structures. We could take a flat approach, with each function reporting directly to a CMO, or we could centralize functions according to buyer's journey stages, customer segments, geography, or otherwise.
Whether the staff consists of 3 people or 30, all marketing functions fall under these four categories.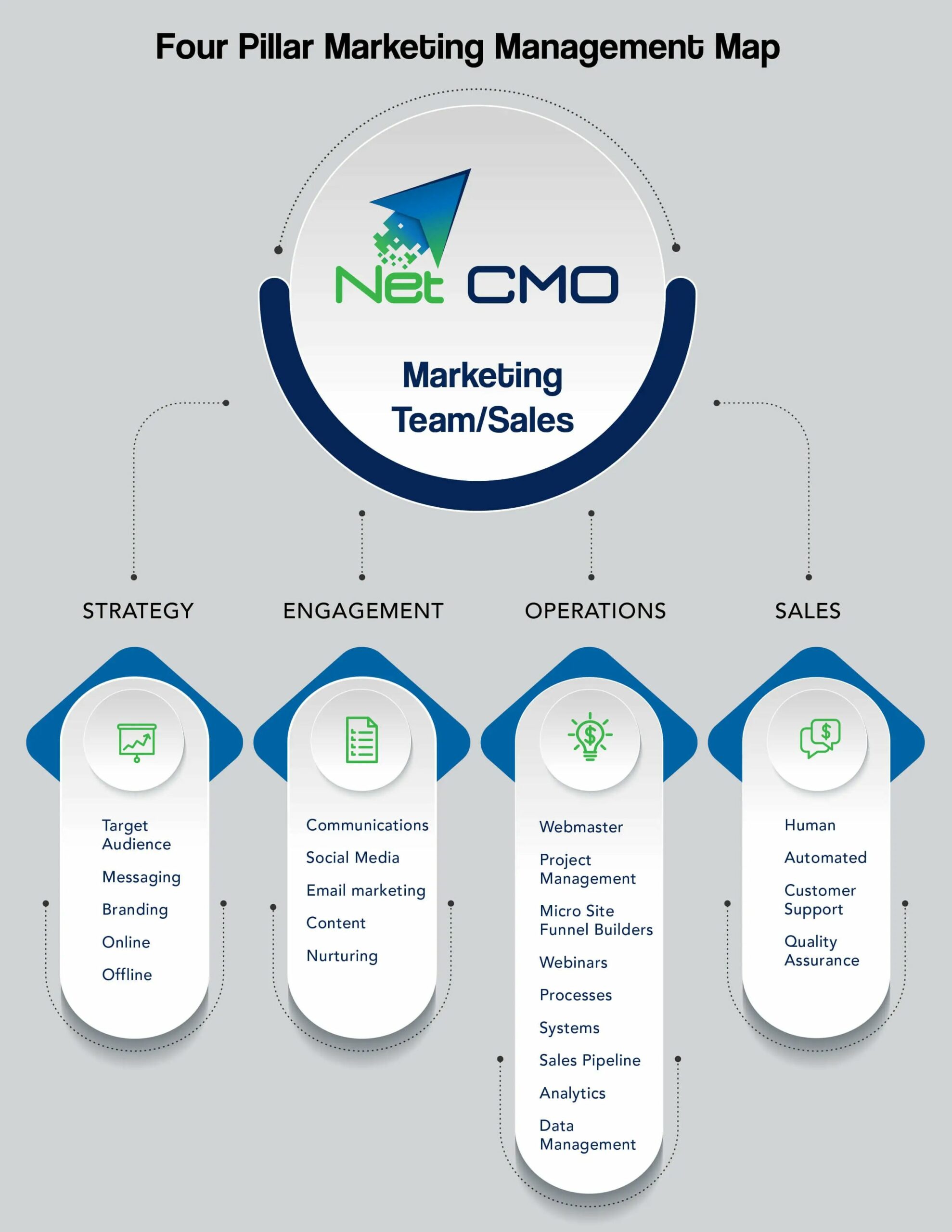 The 4 Pillar Marketing Team is Lean and Agile.
Our team is faster, more digital, more global, more automated, and yet more personal and local. We know that we cannot rely on outbound sales alone, so, we focus on inbound marketing, attracting prospects through content and social media in addition to other outlets and platforms.
Net CMO's Vision And Mission
We know marketing leaders can lose sight of primary goals and objectives as it's a struggle to keep up with changing demands, software, and staffing needs. Even as marketing changes, its purpose remains the same: start a conversation that converts to revenue.
Our primary mission is to facilitate growth and increase sales by developing a comprehensive marketing plan that will promote brand recognition and help your organization gain a competitive advantage against your competition.
With a strong leadership team in place, you can expect a unique experience in project development, excellent communication skills and a high level of business acumen from everyone on our staff. Our team can tap into the technologies that are a struggle for you and reach/influence the customers that you are not currently reaching.
We determine how and where your company should be positioned, develop the strategy to drive you to that market position; and seamlessly execute on that strategy.